Gauteng Tourist Attractions
SAB World of Beer, Johannesburg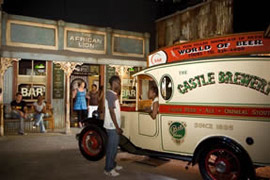 What beer enthusiast do you know who would turn down the chance of two ice cold frosties after a tour that encompasses the art of beer-making and brewing? Since openings its doors over ten years ago, the World of Beer has become an enormously popular attraction for both visitors and South Africans, and it isn't hard to believe given the large beer culture of the country. Set in Newtown, Johannesburg, SAB World of Beer lies in the heart of Johannesburg's inner city within walking distance of Westgate, Braamfontein and Park stations.

The tour covers a fascinating history of beer that begins in ancient Mesopotamia and continues through Africa and Europe, depicting Johannesburg's mining camp days, and a traditional Soweto shebeen, in order to provide a backdrop to the brew. A walk through SAB's sample brewery, a full-scale brewhouse, gives one an idea of the scale of production of a drink most of us take for granted. After brewing, the fermentation process is outlined and the important role of yeast in beer outlined, before a stop in the Tap room to enjoy a glass or two.

SAB was one of the initial companies to invest in the Newton precinct in its SAB Centenary Centre. Since then it has had well over 366 000 visitors all of whom leave with a far richer sense of their heritage and the history of beer.

destinations / attractions in gauteng