Things To Do in Natures Valley

Natures Valley Beach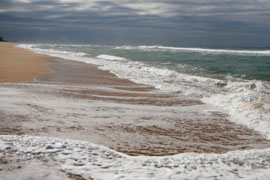 You might have heard this before, but if not impress your friends with this bit of trivia – the Natures Valley Beach is the final pit stop to the popular 5 day Otter Trail. This magnificent beach is a welcome relief for tired bodies and feet. But if you're not one of those doing the trail this is a great spot for surfing, swimming and sun tanning.
Because of the location being so far away from big cities you're in for a treat when the sun goes down. This is a wonderful spot for star gazing and you might just see a shooting star or two if you have the patience.
Keen fishermen can enjoy a variety of this sport from rock and surf fishing or even fly fishing on the lagoon. Whatever you fancy make sure you visit this lovely part of the Garden Route.