Bloukrans River Bridge, just beyond Nature's Valley in the Western Cape, is famous for its bungi jump, reputed to be the highest commercial bungi in the world at 216 metres. But the Bloukrans Pass is one of ...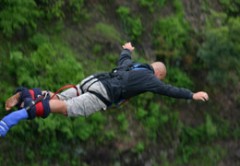 Bungi jump the highest commercial bungi jump in the world! The Bloukrans Bungi Jump surpasses the position previously held by the Victoria Falls as the 'highest bungi in the world'. The Bloukrans bridge is 216 ...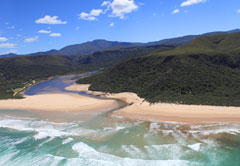 De Vasselot Nature Reserve is part of the Tsitsikamma National Park. Nature's Valley, the unpretentious holiday village, lies within De Vasselot and as such has never grown beyond the bounds of its one or two ...
Just north of Nature's Valley, between the towns of Kareedouw and Misgund, the Formosa Nature Reserve lies inland of what is arguably the most beautiful stretch of coastline in the country - the Garden Route. ...
Head off towards Nature's Valley from Plettenberg Bay on the N2 and Keurbooms River Nature Valley lies roughly 8 km along the major route of the N2. The beautiful Keurbooms River nature reserve that stretches ...