South Africa Maps
Royalty Free Map of South Africa
This South Africa Map is available and free to use, in large format, on your website or in your research papers and projects.

This map of South Africa is available in a large format (700 x 600 pixels) for use on your web site (please see our limited terms and conditions of use below). The map is also freely available for anyone to use in print quality (1,200 dpi A4 printable version or 2,400 dpi A3 printable version).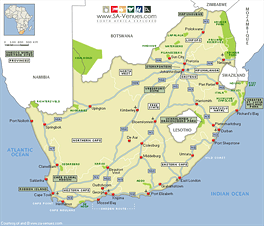 The Map Shows
• South Africa Provinces
• Major Cities
• National Roads
• National Parks
• World Heritage Sites

For Website Use
• Download map (69 kb)

For Print Use (high quality pdf)
• Download A4 Large Landscape (71 kb)
• Download A3 Large Landscape (71 kb)
Royalty Free South Africa Map
Terms & Conditions of Use
The map may be downloaded via the links provided above and freely used in any medium. The only request we have is that if the map is used on a web site, that a small link to our site be provided from the site. Please link to https://www.sa-venues.com.