Air Travel to South Africa
There are frequent direct and indirect flights by major airlines from destinations throughout Europe, North America, the East and Australasia to South Africa.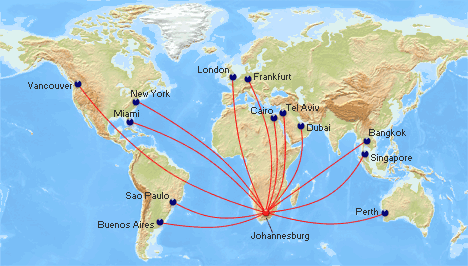 From the United Kingdom to South Africa
From the United Kingdom, South African Airways and British Airways offer the most direct flights but there are numerous European Airlines offering the same flight. London to Johannesburg is an eleven and a half hour direct flight and London to Cape Town direct is twelve hours flying time.
From Germany to South Africa
From Germany, Lufthansa and South African Airways offer direct flights from Frankfurt and Munich to Johannesburg with a flying time of 10 hours and twenty-five minutes. During South Africa's summer months Lufthansa also operate a direct flight from Frankfurt to Cape Town and Air Berlin from Munich to Cape Town.
From the USA to South Africa
From the U.S.A the only direct flight to South Africa is with South African Airways and Delta Air Lines. SAA from New York (JFK) and Washington Dulles. Delta Airlines from Atlanta. Both Air Lines fly to Johannesburg.
From most other USA Destinations (eg. Washington D.C., New York L.A., Miami or San Francisco) you can fly via a European capital with a European carrier such as British Airways, KLM, Air France or United. Alternatively some of the Middle Eastern carriers are also flying into the USA, such as Emirates and Etihad.
From Australia to South Africa
From Australia, Qantas offers direct flights from Sydney to Johannesburg and South African Airways offer direct flights from Perth. Total flying time is approximately 11 hours and 5 minutes.
International Flights
Based on shortest flight times without disembarking - many, many others available. Speak to your travel agent about getting the most convenient flights and cost effective flights for you.