Much of the magic of South Africa comes from its natural drama and diversity. This land is home to mountains that reach an awe-inspiring height of up to 11 320 feet above sea level and those that plummet right down to the ocean. The mountain ranges trundle over the countryside, which is slashed by deep gorges and valleys. Rivers, beaches, forests and deserts all add to the unique topography. More than this, though, they add to the natural splendour of a country that is nothing less than magical.
The relief map of South Africa showcases its exquisite terrain. Its major cities – like Cape Town, Durban, Johannesburg and Pretoria – are included on the map for reference purposes.
It is impossible to represent a country as gorgeous as South Africa in a two-dimensional image. But, this map is useful for travellers and those planning to visit this country to get an idea of just how varied the countryside is, and the proximity of certain features in relation to others.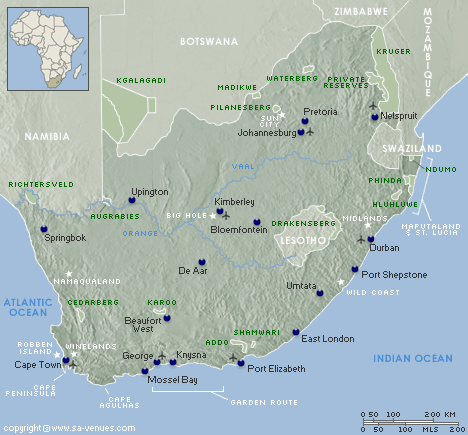 What is a relief map?
A relief map is a graphical representation of the topography of the land. Shading is used to represent the geographic terrain of a given area; including its hills, mountains, valleys, open plains, and other features of the earth's surface.