The Adelphi Centre is situated on Sea Point's Main Road. Originally opened in 1974, the mall was recently expanded and renovated and now offers secure parking for patrons to the centre and 24 hour security. A ...
This is where the more fashionable set go to see and be seen. The Atlantic Seaboard, also known as Cape Townís 'Riviera' stretches from the V&A Waterfront on the north shore of Table Mountain up as far as Hout ...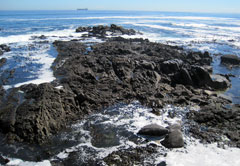 Look out to sea over the edge of Sea Pointís promenade, on the south end of Queens Beach, and you will see a group of immediately striking, oddly striated rocks. They are known as Darwinís Rocks - not because ...
Lionís Head is flanked by Table Mountain and Signal Hill, and was so named by the first Dutch explorers, who arrived in the 1600ís and were of the opinion that the mountain and Signal Hill together resembled a ...
The promenade runs the length of Sea Pointís beachfront, from Bantry Bay to Mouille Point and is a hub of activity, particularly in the early morning or late afternoons to watch the sun set right next to the ...