Brandon's Pass is one of the highest mountain passes in the country. It has also earned its place on a list of 'dangerous roads' in South Africa. Perhaps because it is seldom driven, other than by offroad ...
The Chelmsford Nature Reserve, situated on the Ngagane River, lies just 70 kilometres from Ladysmith and is the site of the third largest dam in KwaZulu Natal, a wonderful venue for swimming, soaking up the ...
On the journey between Newcastle, the third largest city in KwaZulu-Natal, and Volksrust, a town in Mpumalanga, one travels through the Drakensberg range of mountains along a pass known as Laing's Nek Pass. ...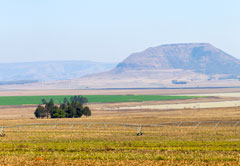 Known as one of the 'gates of the frontier' Muller's Pass - together with Botha's Pass - leads down into the northern corner of KwaZulu-Natal from the highlands of the Free State with its undulating green ...
The Normandien Pass links Memel in the Free State with Newcastle in KwaZulu-Natal. The pass is gravel that by all accounts has seen better days, which for the seasoned traveller only makes it more exciting, ...