Gauteng Tourist Attractions
Johannesburg Shopping, Johannesburg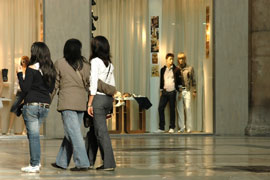 Johannesburg is any shoppers dream destination! There is something here for everyone. No matter what you looking for, you will always find it in a Johannesburg shopping mall. Johannesburg is well known for its superb shopping facilities and shopping is one thing that no other city in the country can offer like Johannesburg does.

From the upmarket Sandton Shopping Centre and Nelson Mandela Square to the fun Oriental Plaza and not to be missed Rosebank Flea Market, Johannesburg is definitely a shopper's paradise. Jozi's shopping malls offer superior quality merchandise, entertainment and are unique lifestyle destinations.

Towards the South of the city you will find The Southgate Mall, The Glen and the Dobsonville Shopping Centre. The Southgate Mall is one of South Africa's top 10 malls in terms of size and has long served the nearby city of Soweto. Southgate has the largest complement of furniture stores in the region. Dobsonville Shopping Centre is the first major shopping complex in Soweto and is seen as a symbol of economic development in the area.

Towards the East of the city you will find the Eastgate Mall. This mall is ideally situated within easy distance of the OR Tambo International Airport and the Johannesburg city centre. It houses over 250 stores full of exciting merchandise. Then we go North. Here you will find the Cresta, Fourways Crossing, Fourways Mall, Hyde Park Corner, Killarney Mall, Melrose Arch, Montecasino, Nelson Mandela Square, Northgate, Sandton City, The Mall of Rosebank and Village Walk.

Cresta Mall is one of Jo'burgs largest shopping complexes, boasting a diversity of stores ranging from supermarkets and clothing to cozy coffee shops and movie theatres. The Hyde Park Corner was completed in November 1969, and was one of the first fully enclosed decentralized shopping centres developed in South Africa. Situated in the heart of the northern suburbs, Hyde Park Corner boasts 130 top-quality speciality stores, many of which are international brands.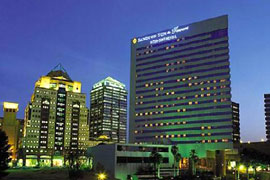 Killarney Mall is one of Johannesburg's most established shopping centres and was the first shopping centre to be opened in the city in 1961. this fantastic mall is known as the city's best-kept secrets. Its unpretentious yet posh, ultra-stylish yet under-stated and modern. For those who enjoy late night shopping then visit the Montecasino. Late-night shopping is a unique feature and clothing, jewellery and African curios are the most popular products. There is plenty of entertainment, including cinemas, a theatre as well as a casino.
Nelson Mandela Square
is also truly spectacular. From designer boutiques and world-class cuisine to local curios and cozy coffee shops, this square encapsulates a lifestyle that takes good taste to new levels. One can take in a show at the Liberty Theatre on the Square, cast your eye across works of art in one of the galleries or simply sit back and enjoy a meal at one of many renowned restaurants. Sandton City is one of those malls where one just cannot resist spending. Its absolutely superb, beautifully decorated, well designed and is one of Johannesburg's most upmarket malls. When you happen to visit Johannesburg, do not miss visiting this grand mall.
To the West of the city you will find the Clearwater Mall, and Westgate. Both offer a diverse shopping and entertainment experience. Lastly, we hit the city centre. Here you will find the Oriental Plaza and Carlton Centre. The Oriental Plaza is known for its exotic variety of fabrics sold at discount prices. Carlton Centre is in the city's towering 50-storey skyscraper known as one of the most popular landmarks in Johannesburg.
In Johannesburg one can truly experience a fabulous shopping escapade. All malls are uniquely designed and beautifully decorated. With so many shops and malls to choose from, where will you go first?
Johannesburg
Holiday Accommodation in Johannesburg
For accommodation in Johannesburg see:
• Auckland Park • Bedfordview • Braamfontein • Craighall Park • Cresta • Darrenwood
• Douglasdale • Dunkeld West • Emmarentia • Forest Town • Joburg Central • Kensington
• Lanseria • Linden • Marshalltown • Melville • Midrand • Northcliff • Norwood • Observatory
• Orchards • Ormonde • Parkhurst • Parktown • Parkview • Parkwood • Randburg
• Sandton • Saxonwold • Soweto • Victory Park • Westcliff

Or to see all accommodation in this region, visit Accommodation in Greater Johannesburg.
Related Links
Attractions / Activities nearby

Just outside Johannesburg in Boksburg, the East Rand Flea Market lies right next to the East Rand Mall, and as a result, is open just about all week, except for Mondays, to sell its wares to shoppers, who delight in the array of goods that range from African artwork, to any number of handcrafted goods, a budding home ... more information

East Rand Mall
East Rand Mall is situated 7km away from OR Tambo Airport. The Mall includes all of South Africa's Major Chain Stores and a host of smaller specialised stores. Extensive entertainment facilities, which include a Games Arcade, Restaurants, Coffee shops, a nine theatre Cinema Centre and an exciting Food and Entertainment Mall.
Roof-Top Market @ Rosebank Mall
50 Bath Ave, Rosebank. Sundays and public holidays from 9.30am - 5pm. The Rooftop Market is regarded by many as South Africa's best flea market, and is well patronised by locals and tourists. More than 500 stalls offer quality clothing, ceramics, art and craft objects, antiques and collectibles.

destinations / attractions in gauteng