Things To Do in Johannesburg Central

Enjoy views of Jozi!

Miscellaneous Sight Seeing Johannesburg

Where? Carlton Centre, 150 Commissioner Street, Johannesburg, Gauteng

How? Call +27 (0)11 331-6608

How much? Falls into price group R1 to R100 per person. Confirm with the provider.

Overnight? Stay at accommodation in Johannesburg Central, in Gauteng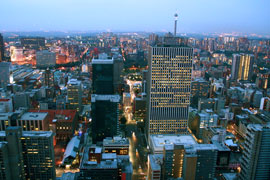 Head to the top of Africa's tallest building and enjoy the view and city lights of Johannesburg from the observation deck on the 50th floor of the Carlton Centre. The entrance fee is only R7.50 and the views are just spectacular.
The Carlton Centre is a skyscraper and shopping centre located in downtown Johannesburg, South Africa. At 223 metres The Carlton Centre is the tallest building in Africa