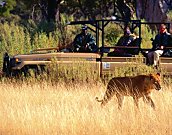 The capital of Botswana, Gaborone, is named after Chief Gaborone, who led his tribe to this area from the Magaliesberg in 1880. Ten years later Cecil John Rhodes chose this little settlement as the site of a colonial fort. When Botswana began to move towards independence in the early sixties, Gaborone was chosen as the site for the new capital due to its strategic location, the availability of a reliable water supply and it's proximity to the cross continental railway line.

In 1966 the Republic of Botswana achieved full independence under Sir Seretse Khama. At the time of independence, Botswana was counted among the ten poorest nations on earth. The discovery of the country's diamond wealth came within five years, and turned Botswana into one of the richest countries in Africa and the third largest producer of diamonds in the world.

Gaborone has all the facilities of any modern capital city. There is a range of hotels, and a choice of cinemas and casinos. Restaurants are numerous and varied and night clubs abound. The National Museum is situated near the centre of town and houses important collections of traditional crafts and southern African fine art. There is an international airport on the outskirts of the city.

The city's main water source, Gaborone Dam, is a popular local resort. It is available for non-motorised water sports, but a permit is required. The Gaborone Game Reserve is Botswana's third busiest game reserve. Well maintained roads give easy access to viewing of wildebeest, eland, zebra, gemsbok, rhino and kudu amongst many other wildlife species.