KwaZulu Natal Tourist Attractions
Natal Museum, Pietermaritzburg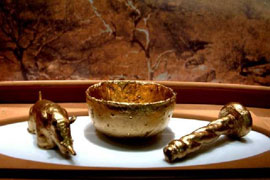 Situated just south of Pietermaritzburg's City Hall in Jabu Ndlovu Street, the Natal Museum is one of South Africa's five national museums, set in a particularly pretty building that dates back to 1905.

The name, Natal Museum, which is in the process of changing in an attempt to reposition itself as it has shifted with the changes in the country, gives little indication of the museum's collection. It is in fact a cultural and natural history museum renowned for its unique collections - there are eight natural history and around ten cultural history galleries that include an array of mammals (together with the last wild elephant in KwaZulu Natal), birds, amphibians, insects, an extensive mollusc collection (there are few South African land snails that are not represented in the Natal Museum) and a life-size T-Rex model. There is also a room dedicated to Natal's history, geological and paleontological material, and a reconstruction of a Victorian street, complete with shops and period homes.

What makes the Natal Museum particularly interesting is the array of interesting temporary exhibitions that give the museum a definite dynamic advantage. Exhibitions and happenings have included an exploration of the history of segregation in the US, monthly sessions of Pietermaritzburg's township poetry group that included a get together of over 100 local poets to celebrate Human Rights Day, a science symposium, and a field trip to the Blommeskat of the Namaqualand Region.

Contact Details and Opening Hours:
Address: 237 Jabu Ndlovu Street, Pietermaritzburg, KwaZulu Natal
Telephone: +27 (0)33 345-1404
Hours: Monday to Friday 09h00-16h30, Saturdays: 10h00-16h00, Sundays: 11h00-15h00
The Museum is closed on: New Year's Day, Good Friday, Christmas Day and Day of Goodwill.
Natal Museum
Accommodation nearby
For accommodation nearby see:
• Pietermaritzburg Accommodation
• Pietermaritzburg Hotels
• Pietermaritzburg Guest Houses
• Pietermaritzburg Bed & Breakfast
• Pietermaritzburg Self Catering

Or to see all accommodation in this region, visit Natal Midlands Accommodation.
Related Links
Attractions / Activities nearby

One of eight national botanical gardens, Pietermaritzburg's Botanical Gardens occupy an ancient floodplain and hillside on the edge of a mist belt that creates an atmosphere, on days when the mists roll in, something like that of a Dickens novel. The city is not known as the City of Flowers for nothing, and private ... more information

Pietermaritzburg's City Hall, which claims to be the largest brick building in the southern hemisphere, lies in the middle of the Pietermaritzburg city centre. The building is a national monument and is a beautiful piece of Victorian architecture, with its 47m high bell tower. Constructed in 1893, the building was ravaged by fire in 1895, with ... more information

destinations / attractions in kwazulu natal