Gauteng Tourist Attractions
Sammy Marks Museum, Pretoria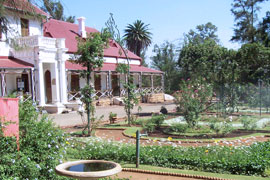 A visit to the Victorian style home of South Africa's first industrialist and entrepreneur, Sammy Marks, is a wonderful way to spend an afternoon. The beautiful home, known as Zwartkoppies hall, is set in park-like gardens on an estate about 23 kilometres outside of Pretoria.

The gracious home has no fewer than 48 rooms filled with the personal effects of Bertha and Sammy Marks that today includes superb furniture, paintings, silver and porcelain. Samuel Marks married Bertha, nineteen years his junior, in his early forties, and together they had nine children, all of whom were educated at home until they were old enough to be privately schooled in England. The house had a staff of 14 and the family was said to entertain lavishly, the tennis courts, gardens and surrounds catering for up to 30 guests at a time.

After Sammy Marks' death, his family lived on in the house until 1991, after which it stood vacant for a time, and in 1995 roughly 73 hectares, including the home, were sold to the National Cultural History Museum.

Sammy Marks is one of the only Victorian museums in South Africa that has managed to retain the interior of the home almost exactly as it was - a completely authentic representation of life in the late 19th century. And the home manages to retain much of its former splendour and graciousness. And Sammy Marks is not just about the museum. Many an idle afternoon can be passed in this space where time appears to have stood still, in the gardens, playing a game of croquet, enjoying a pot of tea beneath shady trees in the tea garden, or a picnic on the extensive lawns.
Sammy Marks Museum
Stay Overnight
For accommodation prior to or after your visit to the Sammy Marks Museum, please visit Meyerspark Accommodation, Equestria Accommodation and Lynnwood accommodation. For accommodation in other suburbs in Pretoria, see Pretoria Accommodation or Pretoria Hotels. If you are interested in taking a guided tour of Pretoria which will include visits to other significant attractions see Pretoria Tours or view the layout of the city of Pretoria by viewing the Pretoria Map.
Sammy Marks Museum
Attractions / Activities nearby

This is one of the most famous zoos in the world and the largest in South Africa. The most interesting feature of the zoo is the aquarium and reptile park. Visitors can also take a ride in the famous cable cars which provide excellent views of the zoo and city. See the koala bear from Australia ... more information

Pretoria also serves as one of the country's three capital cities, officially the executive or administrative capital. With plenty to see and do in Pretoria most tourists find a day trip is often not enough to explore all the city has to offer. Browse through the tours of Pretoria and contact one of our Tour Guides who ... more information

destinations / attractions in gauteng