Gauteng Tourist Attractions
Freedom Park, Pretoria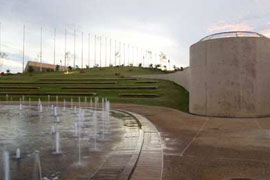 When Nelson Mandela said in 1999 - "the day should not be far off, when we shall have a people's shrine, a freedom park, where we shall honour with all the dignity they deserve, those who endured pain so we should experience the joy of freedom." - he was describing the Freedom Park, which today stands on 52 hectares on Salvokop in Pretoria; a monument to democracy.

The Freedom Park opened its doors in December 2007. It is a space where South Africans and visitors to the country can reflect on the past, and is an inspiration for the future. It is regarded as one of the most ambitious heritage projects the government has invested in; an attempt to encapsulate the heart and soul of South Africa in a physical space.

The park is established on the cornerstones of human dignity, rights and freedom and reflects the sacrificial achievements of the nation. It serves, according to Dr Wally Serote, "as a permanent reminder for us, now and for future generations, that South Africans did take a step forward to put closure to the past while not forgetting it."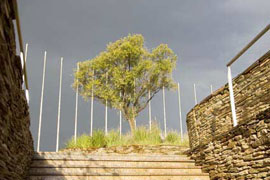 The elements of Freedom Park include Isivivane, a symbolic resting place of those who sacrificed their lives in the struggle. It includes a symbolic burial ground, surrounded by eleven boulders known as Lesaka, a body of water at both entrances for baptism and drinking, and Umlahlankosi trees.
Sikhumbuto, another element of the park, includes a Wall of Names, an amphitheatre, an eternal flame, a gallery of leaders, and a sanctuary; Moshate functions as an exhibition space; Mveledzo is a spiral path that allows a contemplative journey for visitors; Uitspanplek - a tranquil space with a view in which to rest; Tiva, a large body of water symbolising peace (still to be completed), and the Pan African archives, also due for completion. (See
Visit the Freedom Park
for contact details, times and additional info on when to visit etc).
Freedom Park
Stay Overnight
For accommodation prior to or after your visit to the famous Freedom Park, please visit Garsfontein, Waterkloof Glen and Waterkloof Ridge. For accommodation in other suburbs in Pretoria, see Hotels in Pretoria. If you are interested in taking a guided tour of Pretoria which will include visits to other significant attractions see Pretoria Tours or view the layout of the city of Pretoria by viewing the Pretoria Map.
Freedom Park
Attractions / Activities nearby

Designed by Sir Herbert Baker and completed in 1913. Considered by many to be the architect's greatest achievement & South Africa's architectural masterpiece. This was the setting for President Nelson Mandela's historic inauguration in 1994. The spacious, terraced gardens command fine views of the city ... more information

The huge monolith that is the Voortrekker monument stands as a major landmark on a low hill, just outside Tshwane (as Pretoria is now called). Depending on who you are, the monument that has some of the finest sculpture work in the country is either a reminder of apartheid or an important memorial for ... more information