Gauteng Tourist Attractions
Cullinan Diamond Mine, Gauteng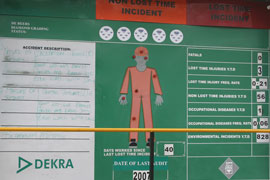 Just twenty minutes' drive from Pretoria brings one to the quaint little town of Cullinan that time appears to have little affected.

The Cullinan Diamond Mine, also known as the Premier Diamond Mine, has uncovered some of the largest diamonds in the world today and the mine lies over one of the biggest kimberlite pipes in the world (kimberlite is named after Kimberley in South Africa and refers to a type of potassic volcanic rock known to contain diamonds).

The Cullinan Diamond Mine is the third richest diamond producing mine in the country, but its major claim to fame is the discovery of the Cullinan Diamond, exposed here in 1905. The Cullinan Diamond, which now forms part of the British crown jewels, weighed in at 3106 carats.

It is the largest rough gem-quality diamond every found, with a remarkable clarity. It also lays claim to a black spot in its centre, which apparently is a sign of severe internal strain. There is a rather elaborate tale about the rather difficult and risky cutting of the diamond that includes the myth that Joseph Asscher fainted after cutting the diamond perfectly in half.

The stories and the chance to see diamonds on display is principally what draws people to the Cullinan Diamond Mine, and a number of tours are available for entering the mine shaft, hoist room, big hole, and the display room.

Since the discovery of the Cullinan Diamond by Frederick Wells there have been other prominent discoveries, including the diamond uncovered in May 2008 - a sparkling 101.27 carat diamond, roughly the size of a ping pong ball that sold for over $6.2 million at Christie's in Hong Kong.

Contact Details:
Address: Premier Diamond Mine, Cullinan, Gauteng
Telephone: +27 (0)12 734-0260.
Cullinan Diamond Mine
Accommodation nearby
For accommodation in Cullinan see:
• Cullinan Accommodation • Cullinan Hotels • Culinan Guest Houses

Or to see all accommodation in this region, visit Northern Gauteng.
Related Links
Attractions / Activities nearby

Where to Stay: Accommodation in Cullinan
The charming little village of Cullinan that has managed to hold on to much of its mine village character - its historic stone and corrugated iron mine workers' houses, offices and churches a throwback to the mining ... Cullinan information
The Roodeplaat dam was constructed in 1956 and was initially called the 'Pienaars Rivier Dam'. The Dam supplied the surrounding landowners with irrigation and was later developed into a tourism destination. Rich with abundant fish, bird and wildlife, the reserve which lies on the eastern shore of ... more information

destinations / attractions in gauteng