South Africa Outdoor Activities
Gauteng 4x4 Trails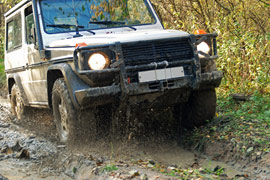 Gauteng is the smallest province in South Africa. Gauteng is a large industrial hub but is also home to the beautiful Magaliesberg which is a popular holiday destination. There are very few 4x4 trails in the Gauteng Province.

Trail Operators in Pretoria will take you to discover wild and remote locations and experience the variety of Southern Africa's natural habitats, wildlife and culture. Whether camping or staying in bedded accommodation, you will always be close to nature and evenings will be spent around the campfire, chatting about your 4x4 adventures. You can choose between a Self-Drive or Guided option. Contact is maintained via radio transmitters and receivers. The degree of difficulty in negotiating roads and tracks may vary depending on the terrain and prevailing weather conditions. From thick, loose sand to wet clayey soils, mud, rocky areas, rivers, gravel and steep inclines, these South African 4x4 trails have it all. Such conditions add to the sense of adventure and allow you to explore remote and generally inaccessible areas. Fantastic scenery and game viewing opportunities will add to your already amazing 4x4 adventures.

The Berakah 4x4 Eco trail is found just outside Parys near Gauteng. It is a fantastic weekend escape not far from Johannesburg. This route was listed in the "Drive Out 10" and has everything from flat savannahs and bushveld to water crossings and challenging mountain sections. There is even a pool for cooling off after a day's adrenaline pumping 4x4 adventures.

Hennops offers two 4x4 trails. The first route will take approximately an hour to complete and is only for the very advanced. The second route will take approximately 4 hours to complete and is easy enough for a family getaway. The route starts easy and after about 500m a spiteful axle twister on an uphill starts the fun and adrenaline rush. The route then turns into another axle twister and climbs over a few rocks. It then winds through the mountain to an uphill which requires some decisive action. The trail will take you to a mud hole and a picnic area. It also traverses through shimmering waters and boasts fantastic views.
Gauteng 4x4 Trails
Featured 4x4 Trails in Gauteng

Where to stay: Henley on Klip accommodation
How much (per person): R1 to R100

Bass Lake Adventure 4x4 Trail is a self-drive route that is open 5 days per week, but is very dependent on the weather. The trail is 14 km ... more information

Where to stay: Pretoria accommodation
How much (per person): On Request

Get in your 4x4 and for to Groenkloof trail for a fantastically fun route! This circular route is 14 kilometers long and will take ... more information
Gauteng 4x4 Trails
Related Pages

Apart from the many 4x4 trails in Gauteng, some of the most spectacular scenery and experiences are only accessible by 4-wheel drive vehicle ... more information

Looking for Things to Do in Gauteng?
Search for extreme sports (and service providers), horse riding, watersports, family entertainment and other activities ... See Things To Do in Gauteng.