Things To Do in Groenkloof

Groenkloof 4x4 Trail

Where? In Groenkloof, 6km from Pretoria, Gauteng

When? Daylight hours.
Distance: 14km Time: +/- 2 hours.

How? Call +27 (0)12 440-8316

How much? Price on request

Overnight? Stay at accommodation in Groenkloof, in Gauteng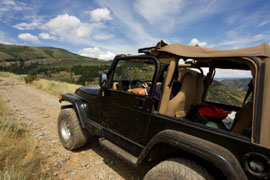 Get in your 4x4 and for to Groenkloof trail for a fantastically fun route!
This circular route is 14 kilometers long and will take approximately two hours. The terrain consists of water, mud, steep climbs and a rocky climb. You can visit here year round and self drive as no guidance is needed.
Other popular activities here are mountain biking, hiking and horse riding. If you want a make a weekend of it then check out the overnight hut, youth camp and camping sites available (The Fountain Resort will allow caravans).
There is a restaurant here for that much needed meal and refreshment after a long and tiresome day on the trail. Get together a group of friends or your family and visit Groenkloof for an extraordinary experience.