Things To Do in Calitzdorp

Visit the 'What Not Shop'

Arts & Crafts Cafés & Eateries Karoo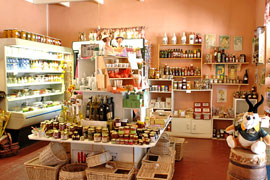 Visit the "What Not Shop" in Calitzdorp on the famous Route 62. It's an adventure of discovery - "what not can be found".
With an amazing array of trinkets, souvenirs, accessories, clothing, hats, baskets and lot of what you'd never expect to find, the local arts and crafts mingle with miscellaneous mementos to take up an exciting afternoon of shopping and gift-buying.
Also visit the Deli at the Rose of The Karoo. The deli offers an array of local homemade delicacies for which the Rose of the Karoo is famous. Shelves are lined with preserves, jams, pies, dried fruit, nuts and bakes - to mention but only a few!