Things To Do in De Rust

Klapperbos Farm Stall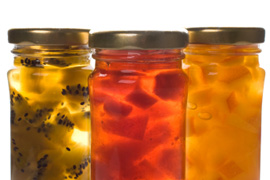 If you want to give back to the community, pop into the Klapperbos Farm Stall in De Rust. Try one of Freda Schoemanís WOW products (Werk op die Werf) which are produced by local farm workers.
The syrup is packaged in reclaimed Brasso tins and the Plaaswerf, Braaipap, plaaskoffie and local tea are all bagged in hand sewn sacks. Also on sale are whole preserved lemons with kumquat or chilli (these are sold in enormous two litre glass bottles) and halved quinces (also sold bottled).