Things To Do in Greyton

Diadème Equestrian Centre

Where? Bakenskloof farm , Greyton, Western Cape

When? By appointment

How? Call +27 (0)83 631-9533

How much? Falls into price group R101 to R200 per person. Confirm with the provider.

Overnight? Stay at accommodation in Greyton, in Western Cape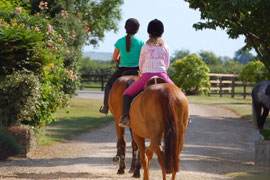 Scenic Trail Rides for experienced riders, lessons and rides specialising in children. Experience the fresh air, farm life and fun for the kids! We offer over 2000 hectares of the most beautiful valleys, mountains and forests to ride in, on our beautiful well schooled horses and ponies. Highly qualified riding teachers and guides attend to your every need.
Diademe is situated on Bakenskloof farm 10 min before Greyton, on your way in from the N2 on the R406 road (distance from Cape Town +/- 130 km).