Eating Out in Umhlanga Ridge

Osetra

Cafés & Eateries Durban Umhlanga Coastline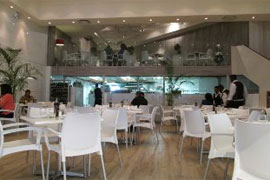 Within the heart of Umhlanga Ridge's shopping district is Osetra, an acclaimed member of the Caviar Group that presents a contemporary take on dining and décor. It has taken culinary inspiration from all over the world to create a menu that is varied and comprehensive. Osetra is smaller than its contemporaries in the group, but every bit as appealing.
The menu comprises dishes fresh from the Japanese Hibachi grill, pizzas, smoked pork belly croquettes, glazed gammon, ostrich ragout pot pie, sushi, a baked banana and white chocolate parcel with butterscotch sauce, and a lemon posset. The wine list is equally diverse, chosen to complement the menu. Many South African favourites make their appearance on this wine list.