Eating Out in Umhlanga Ridge

Cape Town Fish Market

Cafés & Eateries Umhlanga Coastline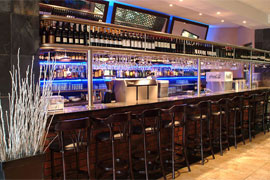 Cape Town Fish Market is a reputable franchise that is found in a number of South African cities. This restaurant combined South African and Japanese dishes to create a varied menu that is delightfully different and inclusive. In addition, there is a sushi bar at which those who love this Japanese delicacy can indulge in a huge variety.
The menu has a range of seafood, poultry, meat and vegetarian dishes from which to choose. There is also a Teppanyaki table at the Umhlanga Ridge branch, which invites patrons to watch as their adept chef prepares their meals with style. The fish market offers fresh fish and other seafood, which can be taken home and prepared with friends and family.
Umhlanga Ridge's Cape Town Fish Market is the ideal venue for functions and celebrations, as well as for intimate dinners or time with friends and family.