Restaurants in Pringle Bay
Restaurants: Casual Dining
Showing 2 of 2 restaurants in this category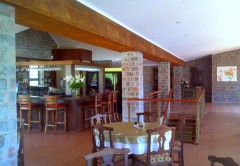 Where? Pringle Bay
Centrally situated in Pringle Bay, @365 Restaurant offers a relaxed atmosphere, complimenting a changing black-board menu offering fresh seafood dishes, succulent steaks, sumptuous venison, and good home-style ...
Where? Pringle Bay
Hook Line and Sinker is a small, yet vibrant restaurant. We can seat just twenty six diners in a single sitting for both lunch and dinner. Hook Line and Sinker is able to seat thirty for special (private) ...
Restaurants: Cafés & Coffee Shops
Showing 1 of 1 restaurant in this category
Where? Pringle Bay
The local deli, Lemon & Lime, stock everything from homemade cakes to imported olive oils, and their milk tartlets and lemon meringue are out of this world. Lemon & Lime Deli is a fresh space where one ...
Filter restaurants
in Pringle Bay, Western Cape
©Unauthorised use of the
photos is strictly prohibited.