Eating Out in Gordons Bay

Berties Moorings

Cafés & Eateries Cape Helderberg Cape Overberg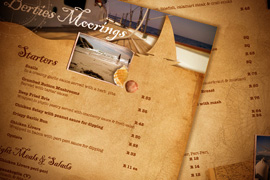 Situated in the Gordon's Bay Waterfront, Bertie's Moorings is a family run restaurant named after the famous yachtie, Bertie Reed. The restaurant comprises a large deck overlooking the water, which can seat 120 people. Inside is a hand-crafted oak barrel bar, made by Bertie himself.
Soak up the stunning views of the harbour in summer or get cosy in winter while the welcoming fire encourages you to stay a little longer. The menu offers a feast of fish, meat and poultry as well as delicious salads. Bertie's staff are friendly and efficient. If you're up for a fun evening then drift in when Live entertainment is offered on Wednesday, Friday, Saturday and Sunday evenings. And you don't have to miss out on the game - sporting events can also be enjoyed on the Big Screen.