Events in Wynberg

Community Chest Carnival

Entertainment Food & Wine Outdoor Events
Please Note
This event has already taken place. All details published in good faith, as supplied by the organisers. Please check our current and upcoming events list for events to attend.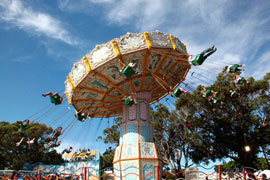 The Community Chest Carnival is one of the Mother Cityís longest running and most successful family events. What began in 1951 as a theatrical garden party has evolved into a pageant of international food, local entertainment and family fun. The event annually attracts in excess 80 000 people over four days.
The event has become signature on the Community Chestís fundraising calendar and contributes to the support it provides to over 200 organisations throughout the Western Cape.

Venue: Maynardville Park, Wynberg