The Gamkapoort Dam lies on the Gamka River, near Prince Albert in the Karoo. Which might position it in your mind geographically, but does nothing to describe or capture the beauty of this part of the country ...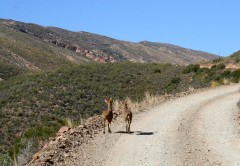 Gamkapoort Nature Reserve lies to the north of the Swartberg Nature Reserve, whilst Towerkop Nature Reserve lies to the west. Together, they form part of the Greater Swartberg Protected Area, a World Heritage ...
The Kredouw Pass lies on the R407 from Prince Albert, where it runs parallel to the Swartberg Mountains. The pass proper starts roughly 25 km from the little Karoo town, after turning left off the R328 onto ...
The Swartberg Nature Reserve lies in the Oudtshoorn district between the Great Karoo and Little Karoo, bordered by the Gamka River in the west and the Uniondale / Willowmore road in the east. The Swartberg ...
The 27km Swartberg Pass is considered one of the finest mountain passes in the world: an untarred road that winds to the summit 1583 metres above sea level in steep zigzags and sudden switchbacks with ...