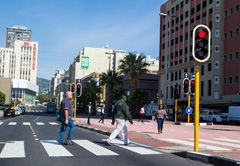 Adderley Street, the next street north west, runs parallel to St George's Mall. It starts at the Foreshore and ends in Government Avenue, an oak-tree lined street, running along the boundary of the Company's ...
A unique combination of history, fine wine, traditional food, military ceremonies and craftsmanship awaits you at this pentagonal fortification. Built between 1666 and 1679, the Cape Town Castle is the oldest ...
Pier Place is an unassuming public square on Heerengracht Street on Cape Town's Foreshore. The square is probably best known for its position in front of Vodacom, the company occupying the bulk of the Pier ...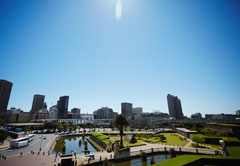 Cape Town's Main Road (M4) runs from the southern corner of the Castle, around Devil's Peak and through the rowdy streets of Woodstock, Salt River, Observatory and Mowbray all the way to Muizenberg. It ...