Mapungubwe Cultural Landscape is situated in the extreme north of this country, where South Africa meets Botswana and Zimbabwe. However, it was once (between 900 and 1300 CE) the centre of gold and ivory trade ...
Set right up against the northern border of South Africa, uniting Botswana and Zimbabwe, lies Mapungubwe National Park - an extensive savannah landscape situated at the meeting place of the Limpopo and Shashe ...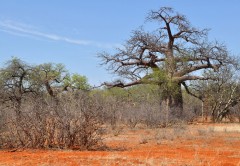 Maremani Nature Reserve is a 41 000 hectare reserve north east of Johannesburg. It is owned by a charity foundation whose focus is to preserve nature and protect wildlife. A relatively unknown private nature ...
Musina Nature Reserve has one of the largest collections of baobabs in the country, and incorporates the former Baobab Forest Reserve – formed in 1926 to protect the baobabs from commercial interests. These ...
In what can only be described as the far northern reaches of South Africa lies the 36 000 hectare Venetia Limpopo Nature Reserve in the Limpopo Valley. The reserve is called a 'piece of old Africa', not least ...