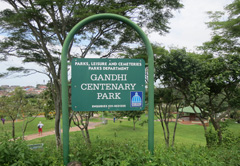 Right in the centre of Chatsworth stands an open public space known as Gandhi Centenary Park. It lies across a street block; a beautiful breathing space in the midst of a humming and commercial neighbourhood, ...
Chatsworth has a substantial green belt around the Umlaas river and dam. Within this green belt is the relatively unknown 220 hectare Silverglen Nature Reserve on the northern bank of the Umlazi River - there ...
The Hare Krishna temple, known as the Sri Sri Radhanath Temple of Understanding, is found in the largely Indian area of Chatsworth roughly 20 kilometres south of the city of Durban. It is one of the major ...