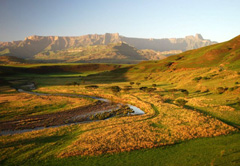 The gorgeous aesthetics of the Amphitheatre Golf Club belie the challenging nature of this special course. In its nine holes, the course manages to test and challenge players; whether they are playing as a ...
This remote gravel pass lies in the mountainous region between Harrismith and Bergville on the border between the Free State and Kwazulu-Natal, not far east of the Sterkfontein Dam. As such Bezuidenhout's Pass ...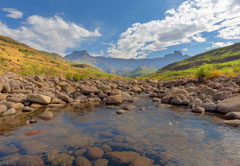 The Amphitheatre is a dramatic cliff face that measures more than five kilometres (3.1 miles) in length. The cliffs along the entire length of the range are more than 1.2 kilometres (4 000 feet) high. This ...
The Middledale Pass lies on the tarred S1101 linking Bergville, in KwaZulu-Natal with Swinburne, in the Free State. The journey is a more direct route between the two towns than either the N3 or R74 options, ...
Mike's Pass is a demanding gravel 4X4 pass high in the mountains near Bergville. The reward for the drive, or ride (for this is also a popular MTB route) is the more than spectacular view, the fresh air, and ...
The Oliviershoek Pass, on the R74 from Bergville, is often used as an alternative route to Van Reenenís Pass. This happens when Van Reenan's Pass is closed off to motorists during bad weather, but you can also ...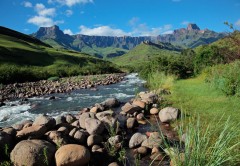 The Royal Natal National Park was proclaimed in 1916, and contains some of the most spectacular scenery in South Africa. The main feature of Royal Natal is the Amphitheatre, a rock wall about 5km in length, ...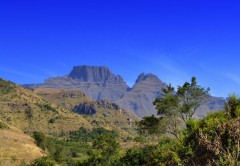 Adjacent to the northern reaches of the of the Royal Natal National Park, Rugged Glen Nature Reserve is part of the Drakensberg uKhahlamba Park, a World Heritage Site that covers 243 000 hectares and stretches ...
Lying virtually at the foot of the rugged Spioenkop Mountain, the dam was the site of one of the most bloody battles to ensue during the Anglo-Boer War in an attempt to lift the Siege of Ladysmith, Spioenkop ...