The last house in which President Paul Kruger was to live, between 1883 and 1901, before he left South Africa to go into exile in Europe, the Kruger House Museum lies just a few blocks from Church square, ...
Melrose House in Pretoria was built in 1886 by George J Heys, who was a prominent and successful business mogul in Pretoria at the time. Amongst other things, it is an important record of how architecture and ...
On one of the major streets in the centre of Tshwane, the capital city of South Africa, lies what is regarded as the country's leading natural history museum, open every day of the week. Founded in 1892, the ...
The National Cultural History Museum is regarded as a centre for living culture and it focuses on the diversity of the country's cultures and history of its people. It includes objects, manuscripts, documents, ...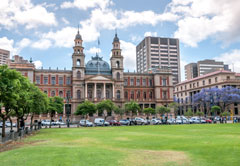 Church Square is located in the centre of town and is somewhat of a landmark in Pretoria. This is a worthwhile visit not only for the interesting history, but the number of buildings surrounding it each with ...
This is one of the most famous zoos in the world and the largest in South Africa. The most interesting feature of the zoo is the aquarium and reptile park. Visitors can also take a ride in the famous cable ...
Regarded as the highest building in Pretoria / Tshwane, with a basement that extends some 25 metres below ground (for very good reason – where better to place a vault or two), SARB (The South African Reserve ...
The huge State Theatre complex in Church Street in Pretoria / Tshwane, with its five theatres and huge public square, opened in 1981 as a non-profit, government funded company famous for lavish productions ...