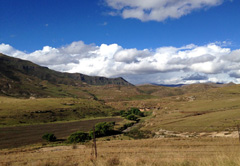 Baster Voetslaan Pass is also, confusingly, known as the Dr Lapa Munnik Pass. You can find out more about him at his memorial plaque close to the summit alongside another plaque dedicated to Nic de Bruin, ...
If you want to see scenery to die for then drive the Bastervoetpad, or Baster Voetpad as it is sometimes written. It links Barkly East / Elliot to the town of Ugie, which it does via the Drakensberg ...
Whilst still on the tar road between Lady Grey and the Clifford turn-off it is possible to see part of the unique railway linking Barkly East with Lady Grey to the northwest. Owing to the mountainous terrain, ...