Port Elizabeth's most famous terraced houses are the row of double-storey examples in Donkin Street, built between 1860 and 1880. They've been photographed from all possible angles, and given a couple of coats ...
The Donkin Heritage Trail is named after the Acting Governor of the Cape Colony at the time, Sir Rufane Donkin. South Africans are well acquainted with the history of the 4000 British settlers who arrived by ...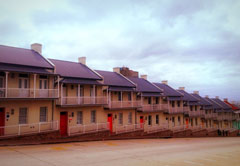 Just over the road from the Donkin Reserve is Donkin Road. It's a hill that runs down towards the harbour and at its crest lie a series of Victorian terraced houses that have become famous. The houses, built ...
At the start of Route 67 is the Campanile tower, a tall red brick edifice built in honour of the 1820 British Settlers. The origin of its name is Florentine, as is its architecture for Bell Tower, which is ...
A 38 metre-long metal silhouette sculpture of a string of people – of all shapes and sizes connected together - forms a work of art known simply as Voting Line. At the end of the queue, close to a group of ...
Just down the hill from Donkin Reserve, the magnificent three-storey Old Harbour Board Building lies on Fleming Street in PE's city centre. It lies in amongst equally impressive buildings like the Railway ...
Port Elizabeth City Hall dates back to the mid-19th century, when the European colonisers were settling on the shores of Algoa Bay and taking advantage of the untouched expanses of farmlands and countryside. ...
The Prince Alfred's Guard Drill Hall stands on the corners of Castle Hill, Prospect and Daly Streets in Port Elizabeth's centre. The beautiful building, built in 1880, is the headquarters of one of the oldest ...