Cotswold, Port Elizabeth
Cotswold is a small suburb of Port Elizabeth, the windy or friendly city depending on who you are talking to, at the N2/ M12 interchange. Neighbour to Fernglen and the business district of Newton Park, the neighbourhood lies due west of Port Elizabeth's North End and a quick drive along Burt Drive brings you to Settlers Highway, which becomes Marine Drive. Humewood Beach and the other wonderful beaches of the city are thus but a half hour's drive from Cotswold.
The neighbourhood is ideally suited for a number of other attractions though and places like St George's cricket ground, and the well known Dolphinarium are close by. Whilst you won't find Chipping Norton, Stow on the Wold or Bourton on Water here, there are pretty nooks and crannies in the leafy suburb.
A stay in the suburb of Cotswold is aimed mostly at those here on business in Newton Park, in town, or if you need to visit the new Coega Development Zone. But on weekends, escapes are possible to a number of the outlying beaches of Port Elizabeth, like Seaview and Sardinia Bay.
Along the coastline there are places like Willows, Schoenmakerskop, Kini Bay and Seaview where you will find coastal springs that run into the sea and pretty seaside villages.
Visit the rock pools at Kini Bay, a quiet spot even at weekends as a lot of people have yet to discover them, or Maitlands Beach where the sand dunes stretch for miles and the Maitlands River joins the sea. Although the dunes at Sardinia Bay easily vie for attention if sand boarding grabs you, or simply to explore the sand and sea.
Travellers' Reviews
1 Review from SA-Venues.com travellers. All reviews are verified.
A very quiet suburb between Cape Road and the highway. There's a big park, which was fun for the kids and dogs and a small shopping centre for basics. Cotswold is close to Greenacres and Walmer Park shopping centres, so was convenient to stay there.
Amy (Barbeton)
In the vicinity
Hotels & other accommodation options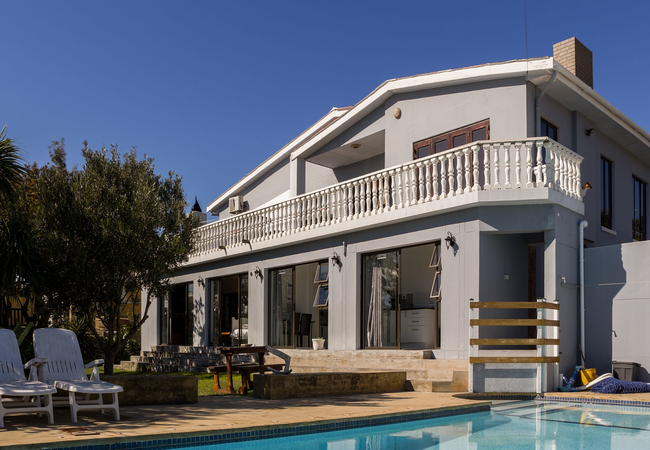 Self Catering
Tyday offers accommodation in three self catering units and one backpacker unit. The accommodation is located in the heart of Port Elizabeth near...
Guest House / Bed & Breakfast
Cashmere Suites is a Port Elizabeth Guest House located in the lovely area of Cotswold. The guest house is ideal for guests travelling for busine...
Noteworthy attractions
Find accommodation in Cotswold
FIND / South Africa Accommodation / Eastern Cape Accommodation / Sunshine Coast Accommodation / Port Elizabeth Accommodation / Cotswold Accommodation
Cotswold as a destination