About Nelson Mandela Bay Stadium
The province of the Eastern Cape had never had a world-class football stadium before the Nelson Mandela Bay Stadium was constructed here for the 2010 FIFA World Cup™.
Did you know?

Since the 2010 FIFA World Cup™, this stadium has become the home of the EP Kings, Southern Kings and Chippa United, and has hosted a number of tournaments, matches and even music concerts.
This stadium was designed to resemble a massive flower (most folk identify it as a protea), with petal-like panels making up the open roof. Located right next to the North End Lake, just a short distance away from the ocean, this stadium has made a remarkable difference to the look and feel of Port Elizabeth's industrial area. This unique locale of lake and ocean also sets this stadium apart from others all over the world.
Its flower design is not only aesthetic, but was also selected as it can withstand the strong winds for which The Friendly City is so well known. The Nelson Mandela Bay Stadium is five storeys high with 46 000 seats. An additional 4 000 chairs were made available for the World Cup.
It has 49 hospitality suites, a number of lecture rooms, function rooms, two business lounges, and a gymnasium. There are ramps and lifts, 32 turnstiles, and 74 toilet blocks. There are also 500 parking spaces inside the stadium.
Two massive viewing screens, each measuring 12.7 x 7.2 metres, were mounted inside the stadium, ensuring that spectators do not miss a single part of the action on the field. The chairs are randomly coloured different shades of red and orange. This makes the stadium appear fuller on the television screens and makes it more difficult to spot recently replaced chairs.
The Nelson Mandela Bay Stadium is situated in North End, which is both industrial and residential. Major highways are minutes away, making the rest of Nelson Mandela Bay (comprising Port Elizabeth, Uitenhage and Despatch) easily accessible. In fact, most of the major hotels and guest houses are within about 15 minutes' drive from the stadium, as are the beaches.
Need to Know
WhereNelson Mandela Bay Stadium, 70 Prince Alfred Road, Port Elizabeth, 6001, Eastern Cape, South Africa
WhenPlease enquire.
Telephone+27 (0)41 408-8900
OvernightStay in Port Elizabeth Accommodation, Eastern Cape
Disclaimer
Please note, business details can change. While we endeavour to ensure all information provided by the service provider is correct at the time of publication, we do not assume any liability caused by errors or changes, such as price, cost, time, and location. Please check with the provider that the activity/business is still offered as described, before making any travel plans.
Feedback?
If this is your attraction, you can let us know if anything on this page is outdated or contains inaccuracies, by email. We regret, we do not have any other information, please contact the provider if you have questions.
Additional Reading
You might also be interested in
Attractions near
North End
In the vicinity
Hotels & other accommodation options in Port Elizabeth
Things to do in the area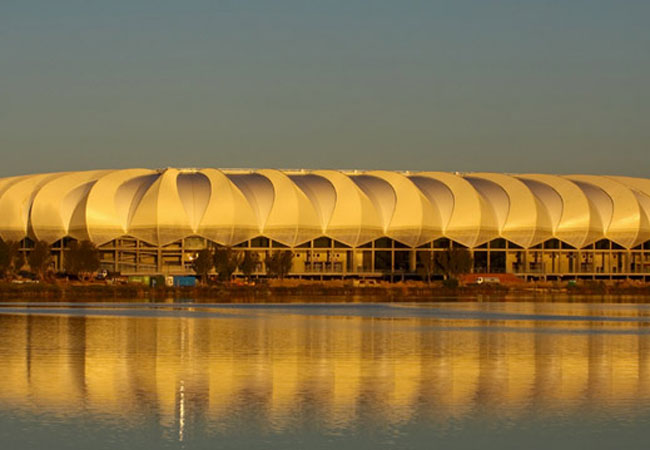 Dams & Vleis
The North End Lake is a beautiful oasis in the middle of a residential and industrial suburb of North End. This lake is also known as the Linden ...
Accommodation convenient to Nelson Mandela Bay Stadium
FIND / South Africa Accommodation / Eastern Cape Accommodation / Sunshine Coast Accommodation / Port Elizabeth Accommodation
Port Elizabeth as a destination