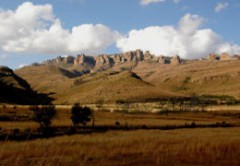 Barkly Pass is the only one of the eight passes in the Eastern Cape that is tarred. It is also the one you can expect to close around the beginning of winter when the first snowfalls begin, overnight as they ...
The Eastern Cape highlands at the tail of the Drakensberg chain of mountains, roughly between Lady Grey and Barkly East, are awash with spectacular gravel passes - eight of them part of what has become known ...
Just before the top of Carlisleshoek Pass (also spelt Carlisle's Hoek) there is a signboard that suggests that you 'engage lowest gear, keep up revs and take corners wide'. It closes off by saying that you ...
Fetcani Pass begins a little after the summit of the remarkable Barkly Pass on the tarred R58 out of Elliot. You will need to turn right onto the gravel R393 just after the road passes the Mountain Shadows ...
Greylings Pass is one of two passes on the long and winding R396 to Barkly East, via Rossouw and Clifford, from Dordrecht or Indwe. The first is Killians Pass (the more southern of the two) followed quite ...
Heuningneskloof Pass makes its way onto dangerousroad.org, which means that those who venture along its twists and turns are of the more intrepid ilk. The pass lies in one of the most remote region of the ...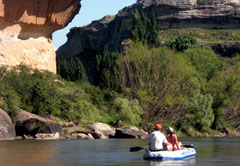 The Kraai River Pass is a tarred road through the mountains on the R58 linking Barkly East and Lady Grey, in the Eastern Cape Highlands. It is not a difficult pass to drive with easy, sweeping curves and ...
Lundean's Nek Pass, also sometimes spelt as Lundin's Neck, links the little mountain farming community of Wartrail with the Telle bridge Border Post into Lesotho. In broader terms it links the Witteberge ...