Eating Out in Newlands

The Gardeners Cottage

Cafés & Eateries Family Entertainment Wheelchair Friendly Southern Suburbs

Where? 31 Newlands Avenue, Newlands, Cape Town.

When? Tuesday to Friday from 08h00 to 16h30.
Weekends and Public Holidays from 08h30 to 16h30.
Closed Mondays.

How? Call +27 (0)21 689-3158

Overnight? Stay at accommodation in Newlands, in Western Cape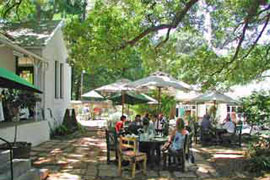 The legacy of the gardener's green fingers lives on in healthy, wholesome fare in the comfort zone. Expect natural flavours inspired by fresh, seasonal ingredients in herby green leaf salads, gourmet sandwiches, filled baked potatoes and quiches from the oven. The sweet-toothed should head straight for the homebaked muffins, scones, cheesecake, carrot cake and lemon tart on the cake stand. If you are after a glass of wine with lunch, a small selection is available by the glass or bottle, with a five-star Dom Pedro and Irish coffee.
Additional Reading:
For a first hand review and additional info visit our Editors review at: Gardener's Cottage - an escape beneath the trees.