Western Cape and Cape Town Things To Do
Reuben's Restaurant & Bar (Franschhoek)
Categories: Cafés & Eateries
Price group: Price on request (see other things to do in this price group)
Available in the following region(s): Cape Winelands
Stay Overnight: See Franschhoek accommodation, in Western Cape
Address: No 19 Huguenot Street, Franchoek, 7690, Cape Winelands
Telephone: +27 (0)21 876-3772
Opening hours: Reservations are essential.
To see more restaurants:
South Africa Restaurants / Western Cape Restaurants / Franschhoek Restaurants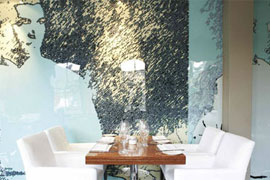 Reuben Riffel, chef and owner of Reuben's in Franschhoek, embodies a story of hope that has endeared him to all who know it.

Growing up in meagre circumstances in rural Franschhoek, Reuben never dreamt he'd be regarded as one of the top chefs in the country someday as he struggled to decide what it was he wanted to do with his life. Working in the kitchen was a part-time job until the moment Reuben realised it was his calling, after which he went on to work in kitchens all over the world, returning to Franschhoek years later, to open Reuben's. Reuben's dream of 'standing out as a top chef came true, when he was voted Çhef of the Year' and his restaurant was voted 'Restaurant of the Year'. Locals and people from all over the world make their pilgrimage to 'Reuben's 'to experience his unique menu and the magic that makes everything he touches, turn to gold.

An excerpt of Reuben's special winter menu includes; warm sweet potato, butternut and pear salad; braised oxtail with confit vegetables, creamy mash potato and a reduction of its cooking juices; whole roasted sole with creamy naartjie sauce, pommes puree, glazed carrots, turnips and butternut; and apple tart tatin with vanilla Calvados sorbet and sour cream apple sauce for dessert.

On the menu at Reuben's, some favourites on offer include; herb buttered mussel cracker; pork belly and potato, leek crème; duck confit in phyllo, orange, cumin scented bell pepper compote, porcini-truffle broth; all rounded off with the 'pink lady' apple, sorbet, crisps, compote, Calvados-apple butterscotch, sponge and pistachio streusel.

Dedicate the day to discovering why Reuben's is such a memorable experience. We firmly believe that Reuben's should be on your 'must visit' list of your Cape Town experiences.
Why Not Overnight?
Find Accommodation in Franschhoek
Three Cities Le Franschhoek Hotel and Spa is situated in the picture perfect area of Franschhoek. Surrounded by the very beautiful Cape Winelands and within easy reach of other popular destinations such as Stellenbosch and Paarl, this luxurious hotel is an all round winner. Housed in a contemporary ...
Set within a boutique vineyard in the spectacular Franschhoek Valley, La Galiniere Farm provides well-equipped, comfortable and affordable, 3-star, AA 'Highly Recommended' accommodation in three self-catering cottages. Accommodating a maximum of eight guests ...
Related Pages
Travelling to Franschhoek
• Visitorial - I ♥ Franschhoek because …
• Things to Do in Franschhoek
• Franschhoek Attractions
• Franschhoek Accommodation
• Franschhoek Bed & Breakfast
• Franschhoek Hotels