Things To Do in Kenilworth

Relax at Soma Spa

Health & Beauty Southern Suburbs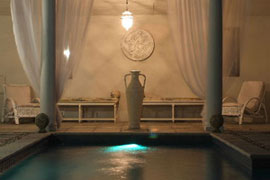 Soma Studio offers relaxing and effective salon therapies in the tranquil environment at Highlands Country House. The word 'soma' (sew-ma) is from Greek meaning 'body.' It is also known as 'the science which treats of anatomy and physiology.' At Soma Studio, the focus is on balancing and pampering the body. Soma Studio offers a wide selection of face and body therapies, as well as packages, all using South African products.
Two professional ranges are used for facial therapies: Salon Care: is a result-orientated skincare product range which has excellent skin compatibility and little chance of skin reaction. No animal products are used in the products and no animal testing is done. RegimA: is a highly active range using natural fruit acids to drastically improve the overall skin condition, treating concerns such as pigmentation, sun damage, acne, scarring and ageing. This range also provides natural fruit acid peels to assist with this. It is an ideal treatment and homecare solution to pre and post facial plastic surgery. (Please enquire for further information regarding this product range and the salon treatments.)
All facial treatments are suited to your specific skin type and skin concerns. Wisdom of Africa is the body product range used for body therapies such as the Mongongo Nut Polish Body Polish, the African Potato Wrap, and the Hot Stone Pinotage Infusion. Wisdom of Africa captures the healing essences of Africa, as it only contains the purest, naturally-derived indigenous ingredients such as marula, african potato, and grape extracts. At Soma Studio the body therapies are uniquely created for the salon.
Soma Studio is available for hotel and non-hotel guests. It is the perfect addition to an event at Highlands Country House or a special occasion. Gift vouchers are also available.