Things To Do in Woodstock

Raw Vision Gallery

Art Galleries City Bowl Southern Suburbs

Where? 89 Sir Lowry Road, Woodstock, Cape Town

When? Monday to Friday from 09h00 to 17h00 and Saturday from 10h00 to 14h00.

How? Call +27 (0)76 581-9468

How much? Free to browse

Overnight? Stay at accommodation in Woodstock, in Western Cape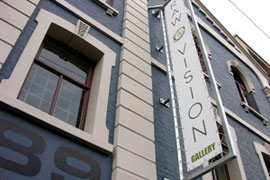 Raw Vision Gallery is one of the new galleries on the new and upcoming Woodstock art strip.
We like to exhibit 'Art with Attitude' and opened in June 2009 with Mike Fisher's 'Messages from the Future', works digitally created - a mixture of sketching and then manipulating using photoshop and Corel Painter 11 (digital fusion). The opening night was a fantastic and exciting event with over 200 people arriving!
The Gallery promotes the work of South African as well as international artists, photographers, sculptors, ceramicists and animators.