Western Cape and Cape Town Things To Do
Nitida Farmers Market (Durbanville)
Categories: Farm Stalls & Markets
Price group: Free to Browse (see other things to do in this price group)
Available in the following region(s): Cape Town North
Stay Overnight: See Durbanville accommodation, in Western Cape
Address: M13 / Old Tygervalley Road, Durbanville, Cape Town North
Telephone: +27 (0)21 976-1467
Opening hours: Last Saturday of every month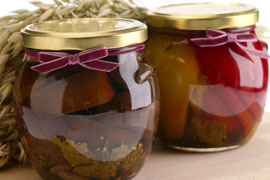 Nitida Farmers Market is held in the Nitida Cellars on the Old Tygervalley Road in Durbanville. Held on the last Saturday of every month, it's the perfect venue for a delicious farm breakfast and once you've savoured that, you can spend a few hours browsing the 50 odd homemade products from various different suppliers. Reproduce your breakfast with the help of farm butter and free range eggs. Also available are mushrooms, preserves, chilli products, home baked pies, freshly baked bread and roasted coffee beans.
Why Not Overnight?
Find Accommodation in Durbanville
Luxurious self-catering apartments with breakfast available on request in Durbanville, situated in the upmarket northern suburb of Durbanville Hills. Four Palms Guest House is situated just minutes from ...
Onse Huisie is a beautiful home bordering on a wine farm, where you can relax, unwind and enjoy the warm hospitality of the owners, Cobus and Debbie. Onse Huisie offers two double bedrooms and guests have the choice of bed and breakfast or self-catering in the spacious ...
Related Pages
Travelling to Durbanville
• Things to Do in Durbanville
• Durbanville Attractions
• Durbanville Self Catering
• Durbanville Guest House
• Durbanville Accommodation