Things To Do in Rawsonville

Daschbosch

Wine Tours & Tasting Breede River Valley

Where? 61 Denova Street, Rawsonville, Western Cape.

When? Monday to Friday from 08h00 to 17h00
Saturday from 10h00 to 14h00

How? Call +27 (0)23 349-1110

How much? Price on request

Overnight? Stay at accommodation in Rawsonville, in Western Cape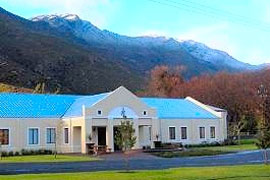 Another goodie in the Breedekloof Valley is Daschbosch. Before youíve even tasted the wine, youíll be in awe of the mountain cliffs, rushing streams and indigenous fynbos. Thereís an abundance of bending roads, vineyards, orchards and majestic views. Some wines in their collection include Sauvignon Blanc, Chenin Blanc, Chardonnay, Rose, white and red Nectar de Provision and a sparkling wine made from Hanepoot. Red wines include Shiraz and Pinotage.
The red Nectar de Provision was launched on their 50th birthday. Itís a wine made of merlot juice fortified with brandy. Somewhat a romantic wine, it is perfect served on crushed ice or with dark chocolate. Do not miss out on the Fear Factor wine tasting which is an usual food and wine pairing which will tutor your tastebuds about wine in four easy steps. When you arrive, you will immediately feel welcome as the hosts are friendly, talkative and informative.
To view more wine estates in the region see Breedekloof Wine Estates or see South Africa Wine Estates for a general overview and links to other wine producing regions.