Eating Out in Ceres

Ceres Inn Restaurant

Cafés & Eateries Breede River Valley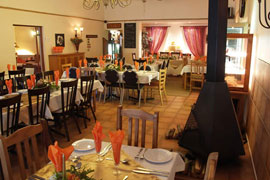 The atmospheric restaurant at the Ceres Inn seats up to 80, both indoor and out, and serves breakfast, scrummy lunch and dinner. The menu is changed according to the seasons, guaranteeing something fresh on the menu, but always offering local favourites.
On Sundays the restaurant does a two-meat carvery throughout Winter. Starters on the a la carte menu include garlic escargot; calamari strips; creamy mussels; chicken strips and crumbed camembert. The spectacular entrée platter contains a veritable mountain of divine starter foods, including spring rolls; sesame steak strips; calamari; olive tapenade and feta cheese. The Ceres Inn platter for two contains gourmet bites such as fine cheeses; pancetta; German salami; Parma ham; chorizo; relishes; poached pears; sliced plums and focaccia.
The lunch menu groans with heavenly trammezzinis, toasties, wraps and pancakes while mouthwatering goodies beckon from the grill. The 'grilled to perfection' prime fillet sounds like rib sticking fare, while the T-Bone, rump steak, man-size rump, fillet Mossel Bay and the triple T-Bone sound equally as delectable. We suggest heading over to the pub afterwards for an after dinner drink.