Western Cape and Cape Town Things To Do
Bubbly and Sweet Treats (Stellenbosch)
Categories: Wine Tours & Tasting
Price group: R1 to R100 per person (see other things to do in this price group)
Available in the following region(s): Cape Winelands
Stay Overnight: See Stellenbosch accommodation, in Western Cape
Address: The House of JC Le Roux, Devon Valley Road, Devon Valley, Stellenbosch.
Telephone: +27 (0)21 865-8200
Opening hours: By appointment.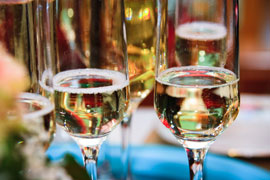 'Remember gentlemen, it's not just France we are fighting for, it's Champagne!' ~ Winston Churchill, WWI .

Imagine what Winston Chruchill would have said if he only new that positioned in the charming Devon Valley lies the House of JC Le Roux, where bubbly and sweet delicacies are offered simultaneously. The passion of bubbles has excited much thirst, and JC Le Roux as the first South African cellar dedicated solely to making sparkling wine has excited many a grape just plain fizzy.

The specialised 'Bubbly and Sweet Delights' tastings, pairs five different JC Le Roux sparkling wines with five home-made sweets crafted by Rodé Handmade Confectionery with natural ingredients. Delight, indulge, sip, savour; repeat. Nougat dipped in dark chocolate meets the nutty biscuit qualities of the elegant Methodé Cape Classic (MCC) Pinot Noir bubbles. The acidity of the bubbly elevates the honey and almond flavours while the berry notes complement the cocoa. The red berries and floral characteristics of the Pinot Noir Rosé bubbly is enhanced by the subtleties of the rosewater Turkish Delight. A bubbly palate of pear and litchi flavours with creamy notes and tones is tasted in the Le Valleé (MCC) which is accompanied by praline and pecan nougat arousing honey and nut notes.

Caramel coated cashew nuts enhances the tropical fruity tones of the La Fleurette rosé sparkling wine. Vanilla Fudge paired with Le Domaine bubbles cuts a mouthful of sweetness with tropical and floral influences. Bottled magic and tastes to sparkle over. Bubbles meet bliss; pop a cork, toast a flute and nibble on sweetness.
Why Not Overnight?
Find Accommodation in Stellenbosch
L'Avenir Country Lodge nestles in the valley below the magnificent Simonsberg Mountains, offering some of the best of the Stellenbosch Winelands. Two Icon Rooms with splash pool, garden and mountain views, four Platinum Rooms with pool (garden facing) and one Family Room which is garden ...
Situated amongst vineyards, in beautifully landscaped gardens with spectacular mountain views, this is where space comes in abundance, choices are both numerous and exciting. You deserve to stay at Eikendal Lodge ...
Related Pages
Travelling to Stellenbosch
• Stellenbosch Attractions
• Things to Do in Stellenbosch
• Stellenbosch Hotels
• Cape Winelands Hotels
• Western Cape Hotels