Eating Out in Glencairn

Breakfast at La Vallee Deli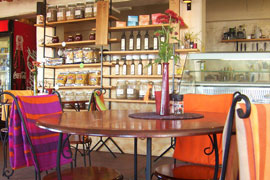 La Vallee Deli in Glencairn is the only local coffee shop and delicatessan, specialising in gourmet breakfasts and filled ciabattas. The deli has an impressive wine and art shop too, as if their incredible chocolate brownies and coffees aren't enough!
The breakfast ramekins of bacon, egg, mozzarella, tomato and basil pesto are widely appreciated as simply the most delicious way to start a Sunday morning.
The deli offers picnic baskets filled to the brim with mouth watering delights and local wines, perfect for a lazy day on the beach or as a true alfresco lunch!