Western Cape and Cape Town Things To Do
African Dining Experience at Moyo (Stellenbosch)
Categories: Cafés & Eateries / Nightlife & Theatre
Price group: R1 to R100 per person (see other things to do in this price group)
Available in the following region(s): Cape Winelands
Stay Overnight: See accommodation in Stellenbosch, in Western Cape
Address: AT Spier R310 Lynedoch Road, Stellenbosch, Cape Winelands.
Telephone: +27 21 809 1133
Opening hours: Monday to Sunday, Lunch and dinner from 12h00 noon.
To see more restaurants:
South Africa Restaurants / Western Cape Restaurants / Stellenbosch Restaurants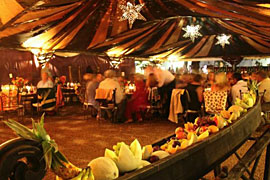 Moyo is the Swahili word for soul and a dining experience at Moyo is African soulful experience. A fantastic venue for an African Christmas, African New Year's party... or just a date in Africa.

An African nomadic experience is set under the African Sky in a garden in the Cape Winelands. The African village feel hums under a 300 year old oak tree with surrounding trees holding tables built in private open tree houses overlooking water features and rustic art work.

Bedouin tents, gazebos and hand crafted bedlike couches allow for a variety of comfort in this 1200 seater indoor and outdoor rustic setting. The 25m buffet collects flavours from all over the African continent allowing you to craft your own individual meal from a selection of freshly made potjies (traditional South African stew) and tagines (Moroccon dish) amongst a variety of authentic salad, fish and meat specialities.

A wide selection of wines has been captured to enhance the African flovours. The smell of spices blends with the beat of the African drums as you are entertained by a medley of local dancers, singers and musicians who perform every night. Wishy-washy ladies circulate inviting you to partake in the traditional African hand washing and face-painting ceremony. Embolas (fire barrels) add to the night ambiance and colourful African blankets allow for snuggling and contemplating the dessert buffet and cigar options.
Why Not Overnight?
Find Accommodation in Stellenbosch
Situated amongst vineyards, in beautifully landscaped gardens with spectacular mountain views, this is where space comes in abundance, choices are ...
Located on a 220-hectare wine farm, Matjieskuil, near Stellenbosch, Hawksmoor House is a meticulously restored Cape Dutch country retreat offering ...
Related Pages
Travelling to Stellenbosch
• Cape Town Restaurants
• Stellenbosch Hotels
• Stellenbosch Guest Houses