North West Province Things To Do
Bushbabies Monkey Sanctuary (Hartbeespoort Dam)
Categories: Animal Sanctuaries / Miscellaneous
Price group: On Request (see other things to do in this price group)
Available in the following region(s): Hartbeespoort Dam / Magaliesberg
Stay Overnight: See Hartbeespoort Dam accommodation, in North West Province
Address: R512 (Old Rustenburg Rd), Hartbeespoort Dam.
Telephone: +27 (0)12 258-9908 or +27 (0)12 258-9909
Opening hours: Open daily from 08h00 to 17h00.
Tours are on the hour, every hour.
First tour 09h00, last tour 16h00.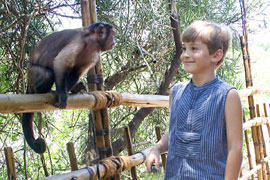 Free-living monkeys in a natural and wild environment!

Walk through natural indigenous forests on elevated wooden walkways and experience a variety of exotic monkeys in an exquisite natural environment. The experience is described as a non-interactive game-viewing opportunity to see once-captive primates in a wild environment. Tours are highly informative and the walk is leisurely, winding its way through a tranquil forest.

Bush Babies Monkey Sanctuary is one of only eight free-release primate sanctuaries globally. Our primates are received on the basis of public donation and supported by funding generated by our guided tours and the sales of our curios.

Primates, such as our squirrel and capuchin monkeys, are given a new lease on life at Bush Babies. Previously raised as household pets or bred for the pet trade, our monkeys are introduced to a wild world laden with waterfalls, lush vegetation, natural mountain springs and the chance to reside in as natural an environment as possible. Our goal is to give them the opportunity to live as they would in the wild.
Why Not Overnight?
Find Accommodation in Hartbeespoort Dam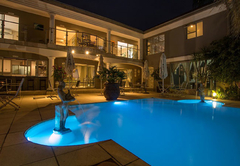 Cocomo - The place you want to go. An elite, upmarket and contemporary styled guesthouse and conference centre offering high quality accommodation and conferencing. Experience true friendliness and executive individual service ...
In the foothills of the majestic Magaliesburg Mountains, Cradle Health Spa - Hydro and Wellness Retreat is the ideal oasis for a holistic healing experience. Only 45 minutes from Sandton we combine the natural tranquillity of nature with the comfort of luxury to bring your body and spirit back into ...
Related Pages
Travelling to Hartbeespoort Dam
• Things to do in Hartbeespoort Dam
• Hartbeespoort Dam
• Hartbeespoort Dam Guest Houses
• Hartbeespoort Dam Accommodation
• Magaliesberg Accommodation