Gauteng Maps
Map of Sandown, Gauteng
Sandown Map - Sandown detail and street level map showing the landmarks of Sandown including the location of the JSE (Johannesburg Stock Exchange) and Johannesburg Tourism. The neighbourhood of Sandown is dominated by business that has spread from the inner reaches of Sandton to claim former residences, large sprawling properties and a number of cluster developments, although these mainly hug the eastern reaches of the suburb. For additional information about Sandown please visit Sandown Information.
If you are interested in overnighting in the area, we can recommend some great hotels, guest houses and self catering establishments. Find them at Sandown Accommodation. If you're only planning on driving through Sandown, en-route to another destination, you may want to peruse our Sandown Restaurants before you leave to see if you should plan a stop here for lunch or maybe just a coffee. Also check out Sandown Things To Do to see if there are any activities for which you would consider stopping.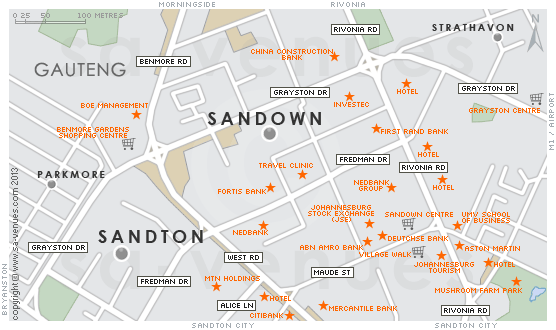 Related Links
Featured Attractions in (or near) Sandown

Situated in the heart of Sandton Central, in Johannesburg, South Africa, the Nelson Mandela Square is surrounded by world-class hotels and restaurants. The popular Sandton City Shopping Centre is adjacent to the Square. Sandton Square made headlines when, commemorating South ... more information

Sandton City
One of the main attractions in Sandton is Sandton City. This shopping centre is ranked among the largest shopping centres in Africa. Together with Nelson Mandela Square, the centre boasts over 144,000m² of shopping space making it the largest in the Southern Hemisphere! It is definitely any shoppers Mecca.

Sandton Convention Centre
Sandton is home to one of the largest convention centres on the continent. The 12-storey building has more than 22 000 m² of meeting, exhibition and special-event space. Multiple events can be staged simultaneously on four levels and up to 10 000 delegates can be hosted at any one time. Capacities range up to 4 500 guests.
Related Links
On Holiday in Sandown
• About Sandown
• Sandown Accommodation
• Sandown Hotels
• Sandton Accommodation
• Sandton Hotels
• Gauteng Accommodation