KwaZulu Natal Golf Courses
Mount Edgecombe Country Club One, Umhlanga
Designed by
Hugh Baiocchi
Type
Parklands golf course
Holes
18
Par
72
Fairway Grass
Kikuyu
Greens Grass
Cynodon
Length
6243m (Ladies: 5977m)
Telephone
+27 (0)31 539-5330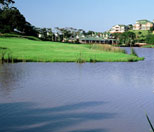 Mount Edgecombe Country Club Golf Course 1, Umhlanga, KwaZulu Natal / Mount Edgecombe Country Club consists of two championship courses - Mount Edgecombe One and Mount Edgecombe Two. Both these courses have their own clubhouses. The Mount Edgecombe's Course One, formerly the Hullets Country Club, was redesigned by Hugh Baiocchi and incorporates a residential estate in an ecologically maintained environment.

The Course
Character Parkland layout with many exotic trees, formerly known as Huletts CC, until converted to a residential estate in the early 90s. Begins with four shortish holes, then builds in strength right to the finish.

Signature Hole
There are three special holes that constitute the course's "Amen Corner" from the 14th to 16th, where water hazards come into play. The first one is a par 5 with water guarding the green, followed by a par 3 across water, and a par 4 where a dam must be carried to reach the fairway.

Stay overnight
Find accommodation in Umhlanga (by location map) or see Umhlanga Accommodation (with preview images and description). Consider Umhlanga Hotels (ranging from 3-5 star) or if you prefer to do it the self catering way, you will find our comprehensive list of Umhlanga Self Catering options useful. Also see Durban Accommodation and Durban Hotels for overnight options in surrounding towns or see KwaZulu Natal Accommodation and KwaZulu Natal Hotels for a place to stay in other towns and cities in the KwaZulu Natal.

Did you know?
Begins with four shortish holes, then builds in strength right to the finish.
golf courses in kwazulu natal