Golfing in South Africa
Garden Route Golf Courses
The Garden Route stretches from Mossel Bay in the Western Cape all the way to Storms River in the Eastern Cape. The mild climate and the spectacular coastal scenery makes this unique stretch of South Africa, a golfer's paradise. Fancourt Country Club Estate (situated in George), is consistently ranked in the Top 10 of South Africa's Golf Courses. The Garden Route offers a golfing experience comparable with the very best in the world - for example, the Pinnacle Point Golf Course, perched atop staggering cliffs along the dramatic coastline near Mossel Bay, was selected as one of the World's Top 10 Best New Courses for 2006 - the first time, in the history of golf, that a South African Golf course was selected.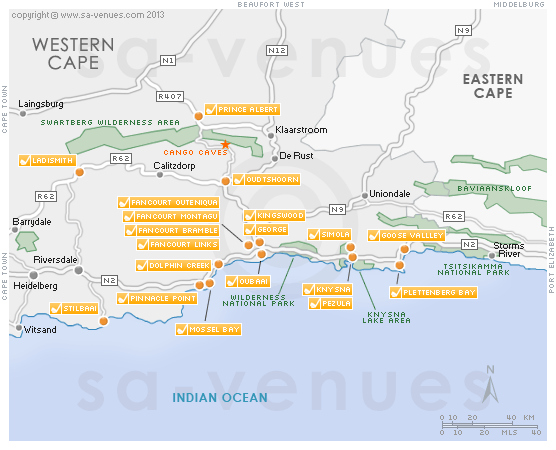 Garden Route Golf Tours
Experience a unique Garden Route Golf Tour / The Garden Route offers visitors a fine selection of golf courses in scenic settings, ideal as part of a Golf Tour to South Africa. Choose a package tour which incorporates the "must-see" attractions of the Garden Route and our unique Garden Route golf courses, which will challenge the amateur and professional alike.